Events and Behaviour Tracking
User Data
Email
Omnichannel
Automation
Multilanguage Campaigns
Security and Compliance
How to Create App Inbox Messages
App Inbox (or pull messages) are short messages that are displayed in the user's personal account on the site. You can see an example of such notifications in your account.
To send App Inbox messages to your customers through our CDP, you first need to get an authentication token and install a web tracking script on your site.
After completing all settings, you can proceed to create App Inbox campaigns.
How to Create App Inbox Notifications
1. Go to Messages → Messages → App Inbox. Click the button Create App Inbox.
2. Set the name, title, and text of the App Inbox message. Please note that the name will only be visible to you.
3. Personalize your messages with merge tags or use dynamic variables. They will be substituted by personal contact data at the moment of the message launch. You can add a segment name and any personal data available in the contact profile as a variable. Click on the Personalization icon in the Text field to select data.
4. Add the landing page URL. Activate the switcher if the link should be opened in a new tab.
5. Make your message unique with images. Add a logo for more brand awareness. Upload JPEG or PNG file. You can also use a variable or a link to the image.
6. Manage subscription categories to send messages to your contacts based on their preferences.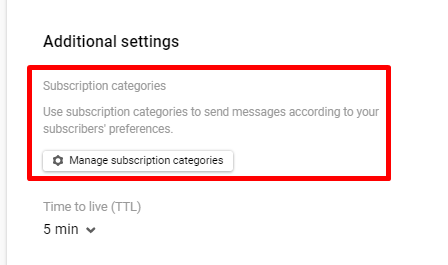 7. Add tags. With their help, you can quickly find the messages you need, analyze statistics, and set up your campaign frequency strategies.
8. Set the Time to Live (TTL). This is the time during which the message is stored in the inbox and can be delivered if the user is not currently available for delivery.
9. Test the messages by clicking the Test button on the top panel. To do this, enter the phone number associated with your account.
If done correctly, App Inbox will be displayed in your account.
Creating Campaign
When everything is ready, click on the Create campaign button.
In the Scheduling → Segments, you can edit segments by including/excluding contacts.
In the Send section, you can set the batching. Click the Start immediately button to launch the campaign. For a delayed start, select the Schedule button and set the desired date and time of sending.