User Data
Email
Omnichannel
Automation
Personalization
Multilanguage Campaigns
Events and Behaviour Tracking
Recommendations
API
Security and Compliance
Adding a Video to an Email
1. Go to Messages > Messages and open the email you want to add a video to or create a new one.
2. In Blocks, select Video and drag it to the template. You can drop it between the existing elements or to a new structure.
3. Left-click the block to open settings on the left. Insert the link to the video you want to add in Link to video. The thumbnail with a play button will appear instantly.
Important!
The embedded video won't play in the email because not all email clients support HTML5. It will open in a new tab.
4. Set alternate text. It's entered automatically from the video title but you can edit it if needed. Alt text will be shown if the thumbnail fails to upload for any reason.
5. If you need a different thumbnail, enable Custom thumbnail and upload it from the computer or select in the bank.
6. In Play button, unroll the menu and select the play button design.
7. Center alignment is set automatically for both desktop and mobile versions. To change it for a mobile version, disable Responsive image (1), click For mobile layout (2) and set up the alignment.
8. In Size, edit the width and height if needed.
9. Enable Adjust to width to adjust the video to the full width of the template.
10. Responsive image is enabled by default. It adapts the thumbnail widths to the width of the mobile screen.
11. In Padding, you can set up padding. Enable More to set padding for each side separately.
12. You can hide a video block in a desktop or mobile version. The hidden block will be labeled with a special mark in the top right corner.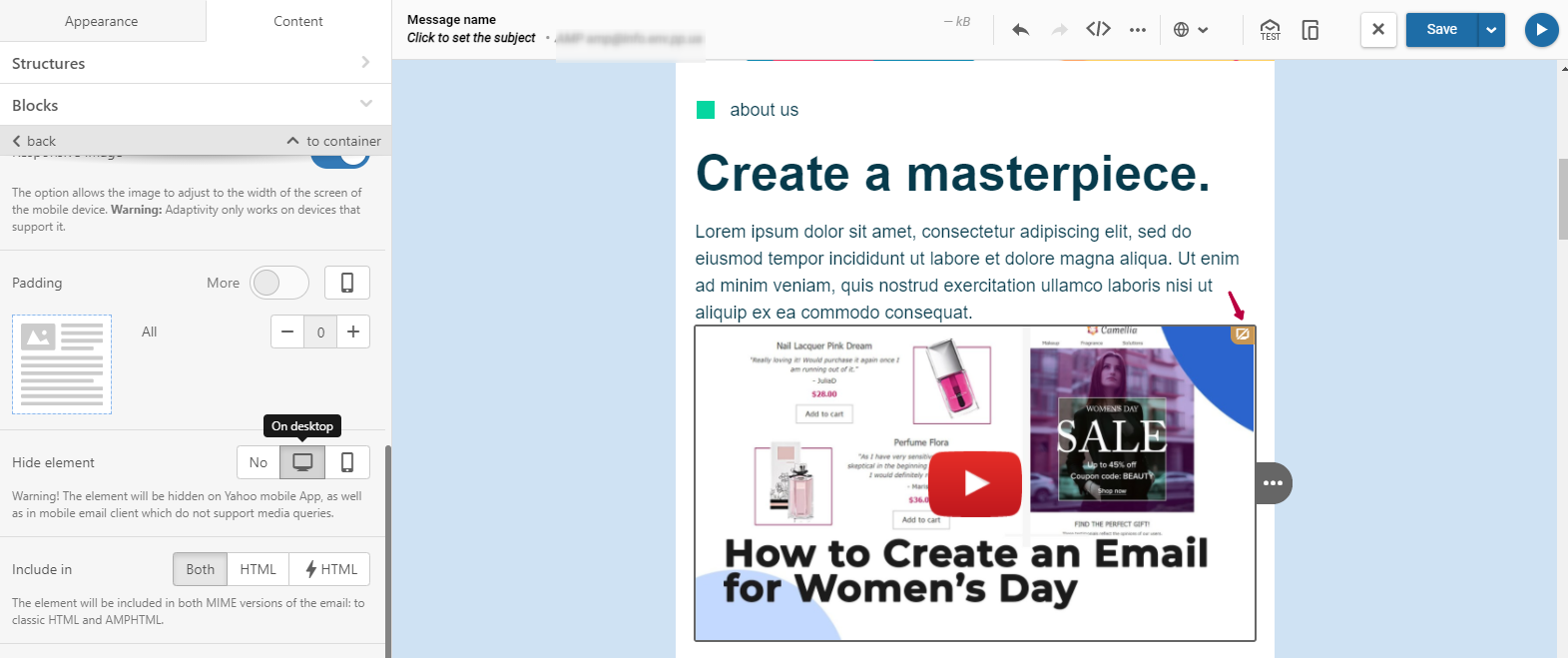 13. You can hide a video block in an HTML or AMPHTML version. The hidden block will be labeled with a special mark in the top left corner.
14. In Event type, you can select the event to assign the video to. For example, you can set up users who click the video to get included in a separate segment. Learn more on how to assign the event to a button.
How to Use Video in Emails
1. Add a video to product cards.
2. Add a product demonstration video.
3. Add a holiday greeting.
4. Add video to blog newsletters to diversify the content.