Why Does Your Business Need Widgets
The number of eCommerce sites is growing every day while keeping users' attention becomes even more challenging. According to statistics, 70% of visitors will leave your site and never return. To make more people pay attention to your business and stay with you, you have to offer them something valuable at the right time.
The company may try to increase profits by bringing more visitors to the site. However, in retail, the cost of attracting new customers grows yearly. Over the past eight years, Customer Acquisition Costs have increased by 222%. Consumers have more choices, so they will choose the company that offers them the best experience: not only the quality of the product is important, but also the quality of interaction with the brand. According to statistics, 68% of users will become customers of a business that offers convenient communication.
How to withstand the competition, keep site visitors, and turn them into customers? Yespo offers an effective solution — website widgets based on user behavior and personal data.
In this article, we will analyze the types of widgets, their goals, and show case studies of well-known companies that effectively use this functionality.
The Power of Widgets
A widget is an additional element of the website interface that allows you to collect visitor data, show them content, engage them in an interaction, and lead to specific pages. Widgets can be built into the site interface or float on top of other elements, block content, or not affect its display. This functionality offers online businesses three main opportunities:
Convince site visitors to leave contacts.
Attract customers with interesting offers.
Collect feedback and user data in surveys.
Let's take a closer look at each of the possibilities.
Subscribers database growth
Direct communications play an essential role in eCommerce. Customers expect personalized communication in the channels that are convenient for them. However, to communicate with users and send them relevant offers to increase sales, you first need to expand your leads and subscriber lists.
The most efficient and easy way to collect contacts is to use smart subscription forms on the site. You can collect not only email addresses but also phone numbers and other data. This will allow you to send notifications to potential and existing customers in different channels with product recommendations and company news.
On average, subscription forms convert 3.8% of website visitors, and the top-performing widgets reach 23.6%.
Drawing attention to promo offers
Interactive widgets will help you showcase relevant offers in a prominent place on your site. To attract and convert more, they can be targeted to customer behavior and data.
With widgets, you can:
Inform about discounts and sales. According to statistics, popups with special seasonal offers have a conversion rate of 11.9%.
Product recommendations. Did the buyer choose something from a certain category? Show them a widget with a suggestion to complement it with a related product. According to our statistics, recommendations generate about 20% of online store revenue.
Create targeted widgets with special offers for a specific audience. You are more likely to convert a website visitor into a customer if you make an offer based on their data. For example, you can display a free shipping widget for customers who made more than three purchases. 49% of survey participants said they purchased a product presented by a company with a personalized message.
Collecting feedback and customer data
To meet the expectations of customers, you need to know everything about their preferences. Where to get such information? You can test content for a long time or use insights from other companies, but the best way to understand what your customers want is to ask them. Statistics show that the average conversion rate for such widgets is 12.6%.
In surveys, you can collect zero-party data, and, on their basis,  make personalized offers: select audience segments and target specific consumers.
However, running a survey is not only beneficial for the company but it also provides the customers with a positive experience. Users will feel that their opinions and preferences matter to the business. This will increase the chances of building strong relationships with existing customers and retaining them.
Widget Types
One of the main widget classification criteria is the purpose of their use. Let's take a look at the most common types of widgets.
Subscription form
The subscription form is a must-have for online businesses. Such widgets allow you to collect the subscriber's contact information: name, email, phone number, etc. Users are usually reluctant to share personal information, so it is necessary to encourage them. For example, you can tell the website visitors how they will benefit by signing up for your newsletter. For example, only your subscribers can access exclusive sales or short-term promotions. Another option is to offer the client a bonus for filling out the form — a promotional code or a discount.
Launcher
The launcher allows visitors to open the widget and subscribe at a convenient time. This option makes it possible to attract the attention of users without annoying them once again. The icon always stays on the screen and moves as the page scrolls. It does not overlap the content and allows for using the website seamlessly. Visitors will be able to subscribe at a convenient moment, and you can remind those who have not yet subscribed to do it.
Informer
Informers are clickable widgets to inform site visitors about promotions, discounts, new arrivals, future events, and increased social media engagement. Their use cases are only limited by the imagination of the marketer.
The company can use such widgets to inform customers about general promotions. However, if you have data about user preferences, prepare special offers and display them only for a specific segment.
In addition, you can turn site visitors into application users. For example, an informer can encourage customers who access the mobile version of the site to view more products or track orders more conveniently in the application and lead to a page on Google Play or the App Store.
Survey
Businesses use this type of widget to get feedback from customers and collect additional customer data. However, the main task is not only to collect data but also to use it to improve the brand and further communication with users. This is easily handled by the Customer Data Platform, which can collect, unify, store, and use different types of data from various sources.
For example, a survey widget allows you to get data about the size of a client's clothes and their favorite brand. In the future, this information can be used to display relevant product recommendations on the site or in email campaigns for a specific user. In addition, you can personalize communication with the client based on the data from the survey.
Age gate
The age gate widget requires site visitors to verify their age before browsing. Using this widget is essential for companies whose activities are regulated by special laws, for example, those offering goods and services only for customers who have reached the age of 18. For example, it can be tobacco and alcohol, video games, etc.
To avoid problems, the company is obliged to warn the user about the age restriction.
Slider
This type allows you to display several offers to the user in one widget — for example, images of products, several special promotions, or company news.
First, it increases the likelihood that a customer will complete a conversion action. Secondly, it eliminates the need to create separate widgets for multiple offers of the same type.
Start attracting more website visitors!
How to Create an Effective Widget
Widgets allow you to communicate with 100% of your website visitors, both identified and anonymous, providing the best user experience and conversion rate. However, in order for them to benefit your company and not encourage visitors to leave the site, there are several widget creation tips to keep in mind. Let's take a closer look at the most important ones.
Design
The widget should harmoniously complement your site, containing high-quality images or videos. It is important not to overload it so that the user immediately sees the main message. So, pay attention to the next points:
Value
The design of your widget is important, but without a relevant offer, users won't respond to it. However, with the help of the following methods, you can increase widget conversion:
Call to action. First thing first, you should come up with a clear message. The widget's text is limited, so the site visitor should understand what it is about at a glance. For example, if you are building a subscriber base, note that a person will get the best deals first if they provide an email. If you are running a sale, add information about the product category and the end of the promotion to motivate the customer to click.
Bonus. Website visitors are more likely to click on a widget if you offer them a benefit. So, 75% of customers expect promotional codes from the company. However, if it is not necessary to add a bonus to a promo popup, then for subscription forms such an element is a must-have. People don't tend to share personal information and expect you to give them something in exchange.
Double opt-in
If you are building an email address database using widgets, you should also take care of the user's consent. To do this, add the data use terms and a checkbox to the subscription form.
In the Yespo system, you can set up automatic sending of a letter in which the user can follow the link and confirm the desire to receive mailings from the company.
This is an important point for collecting client data because their use is regulated by the laws of different countries, in addition to GDPR.
However, companies add DOI not only because of compliance — customers appreciate when a brand ensures the safety of user data. So, adding a button to confirm consent increases CTR by 14%.
​​Multilingual feature
Another opportunity to win the favor of users and increase the effectiveness of widgets is the multilingual feature. It allows you to communicate with the site visitor in the language that they prefer and is especially relevant for businesses serving international customers.
However, creating separate language versions of widgets can be time-consuming for marketers. Yespo offers a solution: adding different versions of widgets is easy in the drag-and-drop builder. Create the main version, select the required language, and an additional widget with the same design and settings will appear in the builder. All you have to do is replace the text and the link.
The system itself will determine which version of the widget to show to the user based on data from the contact card or browser language.
Display conditions
If you create a widget with perfect text and design but don't set the display conditions, it's unlikely to bring the desired results. You need to carefully consider show time, location, and even the number of widgets per site.
In Yespo CDP, you can choose the following rules:
users in which countries show a widget to,
user devices (desktop or mobile),
with what frequency (once per session, for 3 days, etc.),
when exactly (the user stayed on the page for 40 seconds, was inactive for 1 minute, etc.).
In addition, you can customize the widget on specific website pages by URL, UTM tags, or CSS selector.
Widgets that a marketer customizes for a specific audience at a specific time will bring better results than widgets that are shown to everyone all the time.
However, floating widgets that pop up on the site have a drawback: if you clumsily configure their display, you can irritate site visitors instead of encouraging them to make a target action. To avoid this, Yespo has two features:
The overlapping protection prevents multiple floating widgets from overlapping each other.
An annoyance safeguard for avoiding annoying customers sets silence intervals between showing widgets.
Targeting
If your company already uses the widgets' best practices, there is still a new level you can achieve. It implies making targeted offers based on customer data from CDP. Such targeting is available for identified and anonymous visitors. Imagine being able to display widgets with special offers, for example, for loyal customers who have made N number of purchases or for women who follow the updates of a particular brand.
You can implement targeting in the Yespo system using segmentation. To do this, select the desired segment to display the widget using:
User browsing history
Purchase history
Customer preferences
You can also select any segment created in your Yespo account.
It is also important to note that users identified with the help of widgets become available for omnichannel communication with Yespo CDP  immediately. This allows you to make relevant offers to customers at a convenient time for them. In addition to widgets, you can attract potential buyers in the following channels:
Email
Web push
Mobile push
In-app
App inbox
SMS
Viber
All these channels can be combined into workflows to convey the necessary message to the user in a convenient place at a convenient time.
Start making personalized offers to your customers today!
Performance Analysis
To stay updated on your widgets' effectiveness, it is necessary to regularly measure their performance. For performance analysis, you can use statistics on views, subscriptions, clicks, and conversions. So, in Yespo CDP, information about the effectiveness of widgets is updated every minute and displayed on charts. This allows you to conveniently monitor performance over a period of time.
Another option is to pass widget statistics data to Google Analytics. To do this, you need to install the GA script on your site. You can send event data related to user interaction with Yespo widgets to your Google Analytics account: display, clicks, subscriptions, etc.
Best Widgets Use Cases
The options for using widgets are limited only by the imagination of marketers and the technical capabilities of the company. However, there are time-tested scenarios, and they are effectively used by successful brands. Below are some actionable ideas.
Increasing newsletter subscriptions
To increase the contact base, use the floating widget with a promotional code. The call button allows the client to open the widget at any time.
Exit-intent popup
Offer a tempting bonus in a popup window at the right time to keep your visitor on the site.
Targeted offer based on customer data
Show special offers based on gender, age, location, and more to increase conversions.
Targeted offer based on segmentation
Offer free shipping to loyal customers who, for example, have made more than three purchases.
Special offers in the slider
Draw customers' attention to specific products with a bright design and great deals. Use the slider to show more items at once.
Motivating users with a countdown timer
Time-limited offers are more attractive to customers. Add a countdown timer to create FOMO and motivate users to click the link.
Behavioral triggers
Encourage customers to complete their checkout with widgets that remind them of abandoned carts, views, or searches.
Cross-sale engagement
Show additional products to increase the average check. Invite your customer to complement one product with another.
Attracting users to the app
Encourage customers to view more offers on your app and redirect them to the app download page.
How Yespo Customers Are Using Widgets Successfully
MustHave
Ukrainian clothing brand MustHave decided to use widgets to improve visitor interaction with the site and, at the same time, increase profits. Most of all sales are brought to them by informers with linking. They are displayed on the pages of both top categories and categories with a high bounce rate to recommend additional products or other categories of interest to customers.
Also, informers on the product page with another length availability notification have a high conversion rate.
In addition to these types of widgets, MustHave uses popups with a timer for promotions on major holidays, such as Black Friday.
Results of using Yespo widgets:
Decreased bounce rate by 6.44%.
Growth in page visits by 10.2%.
ROI is 240% for the paid period of using informers and 750%, taking into account the test period.
Fishka
The Fishka online loyalty program uses Yespo widgets to inform customers about new service offers. Since the company has an app and wants more downloads, they decided to turn the website's customers into app users.
Fishka specialists created a floating window informer that encourages customers to discover more offers in the app. A widget with a call to download it leads to a page in Google Play or the App Store.
For a month of work, such an informer received a conversion of almost 12%. Of these customers, over 30% have downloaded the app.
DeepStateMap
DeepStateMap.Live is a platform that provides information about the front lines and dynamic military operations within the Russian-Ukrainian war. The platform has about 26 million sessions per month, so they were looking for an alternative solution to customize widgets. Existing services were either expensive or could not provide critical functionality and features such as content blocking, localization, and Single Page Application (SPA) support.
Thanks to the functionality of Yespo, they were able to set up:
multilingual widgets,
content-blocking informers,
adaptive widgets leading to social networks.
Thanks to SPA support, news widgets received a 3.9x increase in conversions.
Foxtrot
Foxtrot, one of Ukraine's largest retailers of electronics and household appliances, uses Yespo widgets mainly to inform users about special offers and sales. The company decided to try out a new strategy for displaying promo widgets.
The client created a popup with a promotional code to attract more site users to the night sales. Display conditions were set up for the widget: it appeared on the site from 18:00 to 09:00 the next day and led to the sale page.
As a result, this strategy resulted in a fourfold increase in conversions.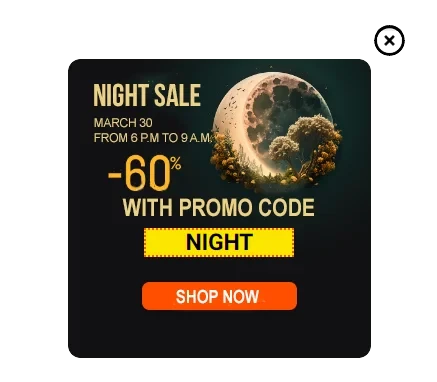 Conclusion
Widgets are an effective tool for attracting website users and turning them into loyal customers. Using this functionality, you can increase the contact base, attract visitors with relevant offers, and collect user data and feedback.
The experience of Yespo customers proves the effectiveness of widgets for various purposes. For example, Foxtrot informers increase the number of night sales buyers, and MustHave improves the interaction of visitors with the website and, at the same time, gets big profits. In addition, widgets can be used to attract customers to an application, like Fishka, or in a social network, like DeepStateMap.
Extensive widget customization options allow you to reach 100% of site visitors — both anonymous and identified. By customizing widgets with data from the CDP, you can create targeted offers for specific customers who are most likely to respond to them. So, the company will be able to increase profits, use the marketing budget more efficiently, and improve the quality of communication with customers.
It is important that this functionality is not separate from other channels that Yespo CDP offers. Widgets can also be used in omnichannel communication to provide customers with relevant offers at a convenient time for them.
Start converting more site visitors into customers with Yespo widgets today!
Special Request Inline