How to Send Bulk Emails with Gmail
According to Litmus Email Analytics (as for August 2020), 27% of users use Gmail for mailing, making it the second most popular email client (compared to 35% of Apple iPhone). Gmail often introduces new useful features and built-in extensions (AMP support on desktop and mobiles, formatted subject lines, scheduled send, smart reply, etc.), making it a useful tool for communication.
And although Gmail is positioned as the inbox for private messaging and not for commercial purposes, you can use it to send bulk emails to multiple recipients. However, before opting for this, mind the following:
You can only send up to 500 emails per 24 hours to 500 different email addresses. To send mass emails in Gmail, you'll have to split the sending schedule into several days.
You need to comply with Gmail bulk email guidelines so that your messages don't end up in Spam.
In Gmail, you can create only text emails. It's possible to merge with some email builders or ESPs and upload an HTML version but this means you need to register with the third-party service anyway.
You can't preview emails in Gmail and so won't be able to check whether the design is responsive and is displayed correctly on different gadgets.
You can't personalize emails sent via Gmail.
You can track only opens.
Gmail doesn't provide reports on the sent campaigns.
As you see, Gmail bulk emails can't substitute a professional automated marketing platform if you're serious about your marketing strategies and send multiple campaigns to a big contact base.
Nonetheless, it can be used to spread important information or updates within a small group of recipients (workmates, schoolmates, webinar participants, etc.) which is especially relevant for the post-COVID-19 era when much communication and studying has gone online. That's why let's take a look at how to send multiple emails in Gmail to numerous recipients.
1. Create contacts.
Hope it goes without saying that to send emails with Gmail you need to have a Gmail account first.
When having it, go to Google Contacts (contacts.google.com) and create contacts in one of the ways:
Click Create contact > Create multiple contacts, add email addresses of your recipients and click Create.
The added contacts will be immediately displayed in the general list.
You can also select the option Create a contact, and add contacts by one.
The process will take you more time than multiple creation but you'll be able to enter extra available information on the contact, that will be also displayed in the general list and simplify further contact management.
Use a bulk import if you have the list in a CSV (Excel) or vCard file.
Apart from email addresses, in the file you can specify the recipient name, phone number, and job title & company. After the import, you can check the added contacts for duplicates and select to skip them.
Note
If you create contacts when logged into one Google account on several devices, they will be automatically synchronized and added to this list.
Send bulk emails to 2,500 contacts for free
2. Create labels.
After you've created contacts, you need to create labels that will serve to unite contacts in groups.
You can either create a label in the settings on the left or create it when actually grouping your contacts.
Click any contact icon and select All in the appeared top toolbar.
Click Manage labels and choose one of the existing labels or create a new one.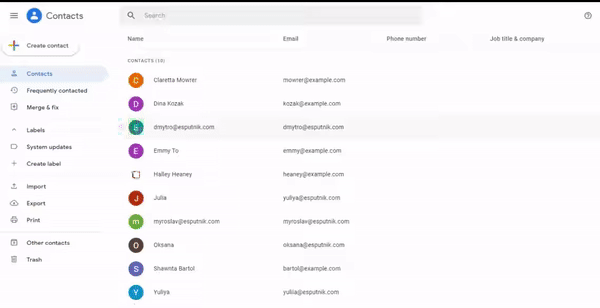 The corresponding label is automatically created for the imported contacts. You can rename it, if needed, and choose it as a label for other contacts.
3. Create a message.
There are three ways you can create a bulk email in Gmail.
This is the most convenient way to use right after contact creation. Choose the necessary label, click any contact icon and select All in the appeared top toolbar. Next, click Send email. You'll be directed to Gmail's Compose mail window where you can create the copy and send it.
Go to your Gmail account and click Compose. In To, enter the label name, and all contacts assigned to it will automatically appear in the field.
You can add several labels if needed.
To send mass HTML emails, create a template in the professional email builder, for example, Stripo.email, and export it to your Gmail account.
Go to your Stripo account > Templates, create an email, click Export, and select Gmail. Under a free pricing plan, you can export 4 templates per week.
The template will be sent to Drafts. Open it, select the necessary label, enter the subject and send or schedule a send.
This is it. As you see, sending bulk emails from Gmail without getting blocked isn't complicated at all. But as I've already sailed above this option can save you time sending important information to a number of people, but it's not applicable to running big regular marketing campaigns. For this purpose, you'd better find a good email service provider and use the advantages it offers.
Last post
Why to Use a Marketing Automation Platform
And speaking for ourselves, if you send emails with our platform, you'll be able to:
Send up to 2,500 messages;
Create and edit responsive templates in a user-friendly drag-and-drop editor;
Use Advanced Segmentation and add dynamic content based on recipients' behavior;
Create AMP-supported emails;
Create multilingual copies within one template;
Preview emails and sent tests to several addresses;
Create automated workflows with a series of emails;
Get reports with full statistics (delivery opens, clicks, errors, etc.).
What's more, our support is always ready to help with any issues which is especially important if you're new to email marketing and can't afford a big team of designers and marketers.
---
Your emails are the face of your brand, so sending professional-looking messages is essential to the overall success of your marketing strategies. So it may be better to invest in a good tool with optimized solutions while using Gmail to send short notifications within your team or department.